From an entrepreneurial vision, through growth and challenges, to where it stands today, a company's history is the foundation for its future. We understand the value of these intangible assets and offer a range of services to preserve your company's history, celebrate its milestones and accomplishments, and honor its leaders. Story Trust business histories are perfect for anniversary or retirement celebrations, conferences, or investor relations.
History Books
We help businesses, large and small, turn an intangible asset—their history—into a powerful tool to reach new customers, inspire employees, and honor founders and leaders. We use authentic storytelling to produce compelling, well-written narratives that capture the culture, values, and strengths of an organization.
Featured Client: Zampell

Celebrating a Major Milestone: 50 Years In Business
The leadership at this fifty-year-old company, now in its third generation, wanted to celebrate this important milestone while honoring the legacy of the founder. The result is a commemorative book that highlights the company's many accomplishments and deeply held values, including the chairman's belief that "the company's success is the people. We couldn't do it without them."
Featured Client: Cumberland Farms
A Business History and a Family History

After one of the founders of a regional chain of convenience stores died, his family wanted to fulfill his wish of producing a book about his life story. Luckily, he had created several audio recordings of his memories of the company's early years.
With those recordings, along with interviews of family members, Story Trust produced a beautifully bound memoir and memorial book honoring this remarkable man.
Featured Client: MTD

A Legacy of Deeply Rooted Values and a Culture of Innovation

A third-generation, family-owned business knows that their story has the power to prolong the enterprise for seven generations and beyond.
Story Trust has crafted a history book that celebrates the company's many accomplishments over the last quarter century. A key feature of the book is a series of personal narratives and reflections by family members, long-time employees, and board members highlighting the enduring values that have sustained the company—and the family—for over eight decades.
Oral Histories
More than a time line of important dates and milestones, an oral history captures a company's stories in people's own words and voices, adding personality and a rich human dimension to a business history. Story Trust will interview key stakeholders, record them with broadcast-quality audio, and edit their stories to bring out the very best—preserving your company's history for future leaders, shareholders, customers, and employees.
Featured Client: PNC Bank

Story Trust helps PNC Bank tell an extraordinary story.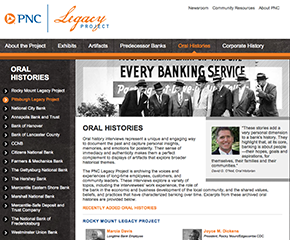 PNC's hometown of Pittsburgh has undergone a tremendous transformation in the last forty years, from an industrial region in decline to one of the most vibrant and livable cities in the country. PNC wanted to tell the story if its role in that remarkable renaissance.
The bank has partnered with Story Trust to record and produce over 50 oral histories for the PNC Legacy Project, an ongoing, public exhibit in downtown Pittsburgh. Interviewees include famed golfer Arnold Palmer and award-winning musician George Benson.
Documentary Videos
Using a combination of new and old film footage, in-depth interviewing, photography and memorabilia, Story Trust will create a documentary video that captures the history and spirit of your company.
Featured Client: Admiral Metals

Celebrating Six Decades of Success
This family-owned business saw a marketing opportunity with its upcoming 60th anniversary. Story Trust recorded interviews with the company's founders and key employees to produce a five-minute video that is being used as an important sales and employee-retention tool. Here's an excerpt.
Executive/Founder Tributes
There is no better way to honor the contribution and commitment of longstanding leaders—and inspire future leaders—than recording their history. Through a mix of photographs and audio recordings, Story Trust will capture the stories and career highlights of someone whose influence and dedication deserve special recognition.